If content is king, UGC is the queen
---
Strategy
6 min read
User-Generated Content Marketing & Your Brand
This one goes out to all the brands not using user-generated content marketing and missing out on all the gains that come with it. User-generated content, or UGC, is the key to conversions on social, unlocking brand trust, the power of people and authentic content – so much content. But before we blow your mind and blow up your current strategy (in the best way), let's begin with a few of the basics.
What is UGC, and where can I find it?
Simply put, user-generated content is just "marketing speak" that encompasses anything consumers create that highlights your brand. Photos, videos, reviews, testimonials, podcasts and – even in some rare cases – music are all forms of UGC. Take a look at your tagged photos on Instagram or search your brand name on TikTok to quickly discover your personal batch of UGC.
While platforms like Instagram and TikTok are bursting at the digital seams with user-generated content, they are not the only place you can find UGC. Don't discount the authentic conversations, reviews and how-tos happening on Twitter, YouTube, Reddit, Twitch, Pinterest and more. Different social platforms will produce different forms of UGC that your content strategy can utilize in many different ways. 
UGC examples on Instagram:
Why should I prioritize user-generated content?
Hold on to your butts, because this question could be an entire article all on its own. Let's break this down.
Brand Trust – If a brand tells a person they have the best product on the planet, is that person really buying? Of course they're going to claim their brand is the best – they're trying to make a sale! But if @joeschmoe67 tells the entire internet they can't live without your product and it's the best thing since sliced bread? It's already in my cart, and I'm halfway through checkout. Let the brand fans who already trust you tell everyone else why they should trust you, too.
Your Relationship – Have you ever witnessed the joy of a random person's post being acknowledged by their favorite brands? If not, go chat with a social media manager and you'll undoubtedly hear it's a bright silver lining over the sometimes tumultuous task of community management. Excited fans are engaged fans, and engaged fans become loyal ambassadors for your brand.
Your Content Library – Between breaking through the noise, the ever-changing algorithms, balancing brand messaging and a new trend popping up every other day (if that), you need a lot of content. In addition to the many other benefits, including UGC in your social strategy helps fill in any content gaps in your calendar and keep up with recommended posting frequencies in a cost-effective way.
Out Of Social – UGC is proven to increase conversions with 80% of people saying UGC impacts their decision to purchase. Just because it started in social doesn't mean that it has to end there. Maybe on a product page or abandoned cart email, you have an image or video where consumers can see what your product looks like in real life. Or maybe a user created a perfect how-to tutorial that could be included in your FAQs.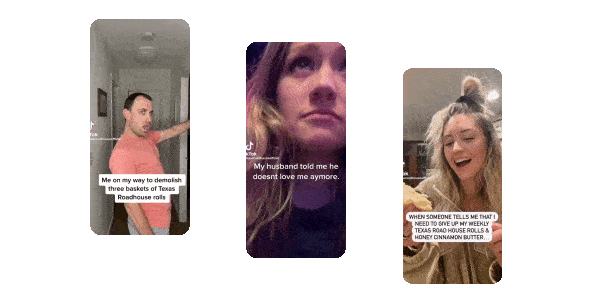 Testing 1, 2, 3
Let me tell you a story about how fresh-baked bread turned into another successful (and #relatable) platform in the digital ecosystem for our client Texas Roadhouse. With the exponential growth of TikTok and the ability to reach a new audience, we knew that was a train we wanted to catch. Here's how we did it:
Step 1: Our team was having so much fun thinking of the possibilities for Andy the Armadillo on TikTok, but we wanted to be sure we were making data-informed decisions for our clients. So, we decided to test the water a bit before diving in Captain Jack Sparrow style. Turns out, people were already talking about Texas Roadhouse and their hot buns on TikTok! After getting users' permission to repost (hey, legal! 👋), we shared their posts with the existing follower base on Instagram and they quickly became the top-performing content by far.
Step 2: After successful trials on Instagram, we felt confident this content would be a hit almost as good as honey cinnamon butter. While Andy was getting ready for the little screen, we utilized the UGC we had already been compiling to start populating the profile while the trends were still hot.
Step 3: Next came our team's favorite part – unlimited rolls for filming making our own TikToks. We were able to take the videos to the next level and give viewers a peek behind the curtain (er, saloon doors?) and show off the brand's personality while leaning into popular trends and opportunistic moments with a UGC-style look.
Long story short – it worked. With several videos reaching over a million views and nearly 100k followers in just a few short months, we'd call that a success, and we have UGC to thank for getting us there. 
UGC examples on TikTok:
No UGC? No problem.
If you're a new brand or severely lacking in fresh-baked bread and don't have UGC filling up your tagged posts, don't worry, we can fix that. Sometimes the best way to get something is just to ask. Contests and sweepstakes are still holding strong in the social media playbook because, well, they work. Remember when we mentioned the joy of a brand interacting with a user's post – the silver lining and all that? Excited fans are engaged fans, and engaged fans will enter your UGC-driving social media contest.
Here are a few great examples of successful campaigns that continue to drive UGC. You probably remember some of these campaigns, but try looking at these with your newfound UGC knowledge and think of how they could be applied to your brand to generate your own UGC.
#ShareACoke

#ShotOniPhone

#MyCalvins

#AerieReal

#RedCupContest

#SwitchTheChobaniFlip
As long as there are users on the internet, there will be user-generated content with the power to transform your brand from just another marketer to a social savvy powerhouse just waiting to go viral.
Interested in learning more or talking about how these trends may apply to your brand? Get in touch!